On-Site Contact Center
Supervisor/Team Leader Training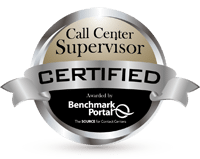 The tipping point in contact centers success is the supervisor/team leader. Without effective agent performance assessment, feedback and coaching, the team does not move forward. Too often, team leaders do not feel comfortable giving direct, constructive feedback and as a result, when they do give feedback it is not always clear, actionable and accepted by the agent.
The overall approach is to address core competencies and skill sets in a comprehensive manner. BenchmarkPortal training treats Contact Center team leaders as critical and highly valued resources with the intent of continuing to strengthen leadership abilities. This helps you enhance your overall value to the business. Results: better-trained professionals with improved abilities to solve problems and manage change. Effective communication is the foundation of success. Our communication, negotiation and team building modules are designed to build the skills that turn former agents into leaders and good supervisors into great supervisors.
This course includes all the important skills and behaviors necessary to successful team leaders and for agent development. All critical learning points are reinforced with activities, case studies and role-plays. We believe that while understanding concepts is important, being able to apply them is essential, so we use extensive role-plays to ensure skill acquisition. We encourage participants to bring their most challenging agent issues to the class to use as role-plays. Class size allows one-on-one interaction with the instructors and enables your team to share experience and build teamwork with colleagues. This course will strengthen your supervisors' overall skills and empower them with new techniques that will improve all aspects of your contact center performance.
Steps To Begin Your On-Site Training:
Contact us today for pricing details and to start your On-Site Training.
Online: Email Us Today
Call: 1-800-214-8929 Ext. 1
Call Center Supervisor/Team Leader Training Workshop Agenda:
Defining & Performing the Supervisor's Job
Communication
Development Process
Feedback
Improvement Action Plans
Coaching
**Content and material may be updated without prior notice.
Onsite Supervisor Training Curriculum
Defining & Performing the Team Leader Job
Describe job responsibilities
Demonstrate understanding of Team Leader Job
Define employee development and its importance
Understanding Blanchard's four primary development levels
Communication
Understanding all aspects of communication
Eight steps of effective listening
Defining performance through observable behaviors
Determine personal communication styles
Development Process
Understanding overall development process
Guidelines and standards for each process
Feedback
Positive Feedback
Constructive Feedback
Improvement Action Plans
Identify key elements of an improvement action plan
Develop an improvement action plan • Identify development activities
Coaching
Identify the five steps of a coaching discussion
Understand the behaviors of successful coaches
**Content and material may be updated without prior notice.
2-day training at client's location
Up to 15 people – with flexible options to meet your needs
Course materials and certificates
Option To Personalize Call Center Training:
Our on-site call center training provides a cost-effective way to optimize training for your specific needs.  Our expert instructors can work with you to ensure that the curriculum is geared toward your problems and aimed at attaining your goals — so that you can successfully elevate your contact center to new levels of excellence. A conference call would be set up to discuss and customize the training to your centers needs.
Learns through action – in your center, using your data, using their center management tools and managing your resources
Customize the learning experience by focusing on specific areas of interest
Testimonials
"The instructor was amazing. He was a great resource for experience traits relevant. He was funny and knowledgeable." – Miranda Smith, Supervisor, On-Site May 2017 Attendee
---
"I felt the course was amazing! I started out feeling unsure and not confident but i'm leaving feeling confidenta and fullfilled. " – Danielle Vinsant, Supervisor, On-Site May 2017 Attendee
---
"This course provided me the tools & skills necessary to apply to be successful in my new position." – On-Site May 2017 Attendee
---
"Thank you for providing direction and guidance in implementing goals as a supervisor and for my direct report." – On-Site May 2017 Attendee
---
"I feel I have the tools to go into this role and be the teacher my team needs. Thank You!" – On-Site May 2017 Attendee
---
"Helped me to solidify the order/organization of a coaching session." – On-Site May 2017 Attendee
---
"As a new coach (7 months) I feel this course has given me the tools to bring my agents to a place of success, have more time & use it efficiently, connect the team, build morale & have great positive impact on my organization. In short, I don't feel like i'm grabbing at straws anymore. I feel focused and empowered to be amazing." – On-Site September 2016 Attendee
---
"I am very satisfied with the information and the instructors knowledge and understanding of the material." – On-Site September 2016 Attendee
---
"I enjoyed the course thoroughly. It provided me with additional tools and ideas to not only help me, but to show with my team. I was completely engaged throughout the session." – On-Site September 2016 Attendee
---
"The instructor was exceptional. She provided her techniques and suggestions. I enjoyed the sections that gave specific suggestions that I can utilize to be considered a great supervisor." – On-Site September 2016 Attendee
---
"The instructor was outstanding and showed patience throughout the training." – On-Site September 2016 Attendee
---
"Great job by the instructor keeping the course interactive and active. I really enjoyed it! – Gilberto Santos, Supervisor – September 2016
---
"I learned so many great concepts that I can immediately implement upon my return." – Kathy Marrero, Coach – September 2016
---
"I learned a lot and was pleased to receive confirmation that I was already doing a few things right." – On-Site September 2016 Attendee
---
"The only real, intensive training I've received as a coach. Now I feel I can be an effective empowerer of my agents." – Ben L., Coach – September 2016
---
"This is a great team building experience for our department." – On-Site September 2016 Attendee
---
"Great learning opportunity! I will recommend this course and instructor to others." – On-Site September 2016 Attendee
---
"This course was very well done and I leave with numerous tools to use in developing my team." – On-Site September 2016 Attendee
---
"This course was very informative and brought great ideas and suggestions for our team." Steve Hall, Coach – September 2016
---