Contact Center Certification Overview
As the customer service call center has become the most vital interface between a company and its customers, it has become critical that the call handling process be conducted both effectively and efficiently. Many companies now want a "third party" opinion regarding how well their call center is functioning in its strategic role of getting, keeping and growing customers. This business need to rate the performance of a company's mission critical call center has led to BenchmarkPortal's Certified Center of Excellence. Call center managers who wish to implement best practices and attain world-class performance in their industry can call upon us to assess and certify their call centers. Our rigorous certification process has the advantage of referencing all performance goals to our best practice database of thousands of call centers. Thus, you will be compared against performance levels that will show your competitive position, not just force you to adhere to an arbitrary standard. The certification process is management's best path to a world-class quality call center. Our certification program is unique in the world as it sets performance standards according to industry metrics. The statistics are determined through continuous processing of metrics stored in our data warehouse of thousands of call centers, which is the largest of its kind in the world. BenchmarkPortal maintains the call center database, which is a warehouse of call center best practice statistics on thousands of call centers in 42 industry segments. This performance data is kept current and accurate, and is used by call center professionals worldwide to establish goals for best practice call center performance.
The 5 Steps In The Certification Process
Benchmarking Survey
A 41-KPI Benchmarking Survey – In-Depth RealityCheck™ is filled out by your call center. In this process, we compare your performance with a statistically valid sample of call centers in your industry segment. We conduct a "deep dive" into the major gaps that were highlighted in this report. The call center's ACD report is mailed to BenchmarkPortal so that an independent auditor can confirm that submitted data is accurate. This discovery process focuses on the performance indicators (KPI's) that are listed below:
Effectiveness Metrics:
First Call Resolution
Agent Satisfaction
Top Box Caller Satisfaction in Percent
Bottom Box Caller Satisfaction
Top Box Agent Satisfaction in Percent
Bottom Box Agent Satisfaction in Percent
Calls Closed on First Call in Percent
Average Speed of Answer in Seconds
Calls Transferred in Percent
Average Hold Time in Seconds
Average Time in Queue in Seconds
Average Calls Abandoned in Percent
Efficiency Metrics:
Inbound Calls per Agent per Hour
Cost per Call in Dollars
Average After Call Work in Minutes
Turnover of Full-time Agents in Percent
Average Talk Time in Minutes
Agent Utilization in Percent
Agent Occupancy in Percent
Adherence to Schedule in Percent
Average Agent Attendance in Percent
Auxiliary Time in Percent
Agents/Supervisor Ratio
We conduct an independent caller satisfaction survey to obtain a direct measurement of your C-sat performance. The call center seeking certification will supply us with 600- 1000 email addresses of recent customers. We then conduct an independent email survey of the customers on this list. Alternative methodologies are available where sharing of email addresses present a true problem.
(click on the Icon above for an example survey)
We conduct an independent agent feedback survey of your agents in an easy-to administer format over the Web. We find we are able to combine input from these surveys with our other discovery processes to reach exceptionally useful recommendations for the client.
(click on the Icon above for an example survey)
Process Discovery and Technology Inventory
We review relevant processes and the center's enabling technology
Onsite Visit
Our carefully structured agenda allows our experts to provide maximum benefit
Executive Presentation and Road Map
Complete findings and recommendations for improvement
The Need for Contact Center Certification
Since companies spend vast amounts of money implementing and operating contact centers to ensure a competitive edge in customer service, it has become mandatory that the call handling process be conducted at best practice standards. This need to function at best practice levels has created the need for third-party certification that contact centers are operating at this high level of call handling performance
"Becoming a Call Center of Excellence can be a game changer for businesses. Fighting to keep customers in today's economy is paramount to most companies and the Center of Excellence distinction has helped drive us to that end result. Going through this process yearly continues to challenge us to improve processes and service levels. The detailed process that BenchmarkPortal provides in comparing our data with a large peer group is unparalleled. At the end, you have a clear roadmap of what is working well and what needs focus and attention for improvement. Because of this, we have been able to develop plans each year to drive better results and better customer experiences. This, coupled with a knowledgeable staff, helps us to close the gaps and continue to achieve excellence in every area. Every call center out there should be doing this benchmarking process; we are proof that it works."
ARAG GROUP
Based on 2013-2015 Client Engagement Surveys
100% Of Our Clients Would Recommend BenchmarkPortal To Others! 100% Overall Customer Satisfaction With The Way We Handled Their Engagement! 100% Of Our Clients Would Use BenchmarkPortal Again For A Similar Engagement!
100% of our customers were Very Satisfied or Satisfied with BenchmarkPortal in all of the following areas:
Overall Satisfaction
Consulting Value
Assessment/Certification Process
Customer Service
Responsiveness
Communication
Professionalism
Teamwork
Information Technology
In 2014…
100% of our clients have been Very Satisfied with their Engagements!
100% have been Very Satisfied with our Responsiveness to Requests!
100% have been Very Satisfied in timeliness in completing engagement milestones!
100% would recommend us based on their experience!
100% would consider asking us to participate in a similar engagement in the future!
AND…. We have not had a single dissatisfied or very dissatisfied customer – NOT ONE!
Our Contact Center Certification Process is Unique in the Following Ways: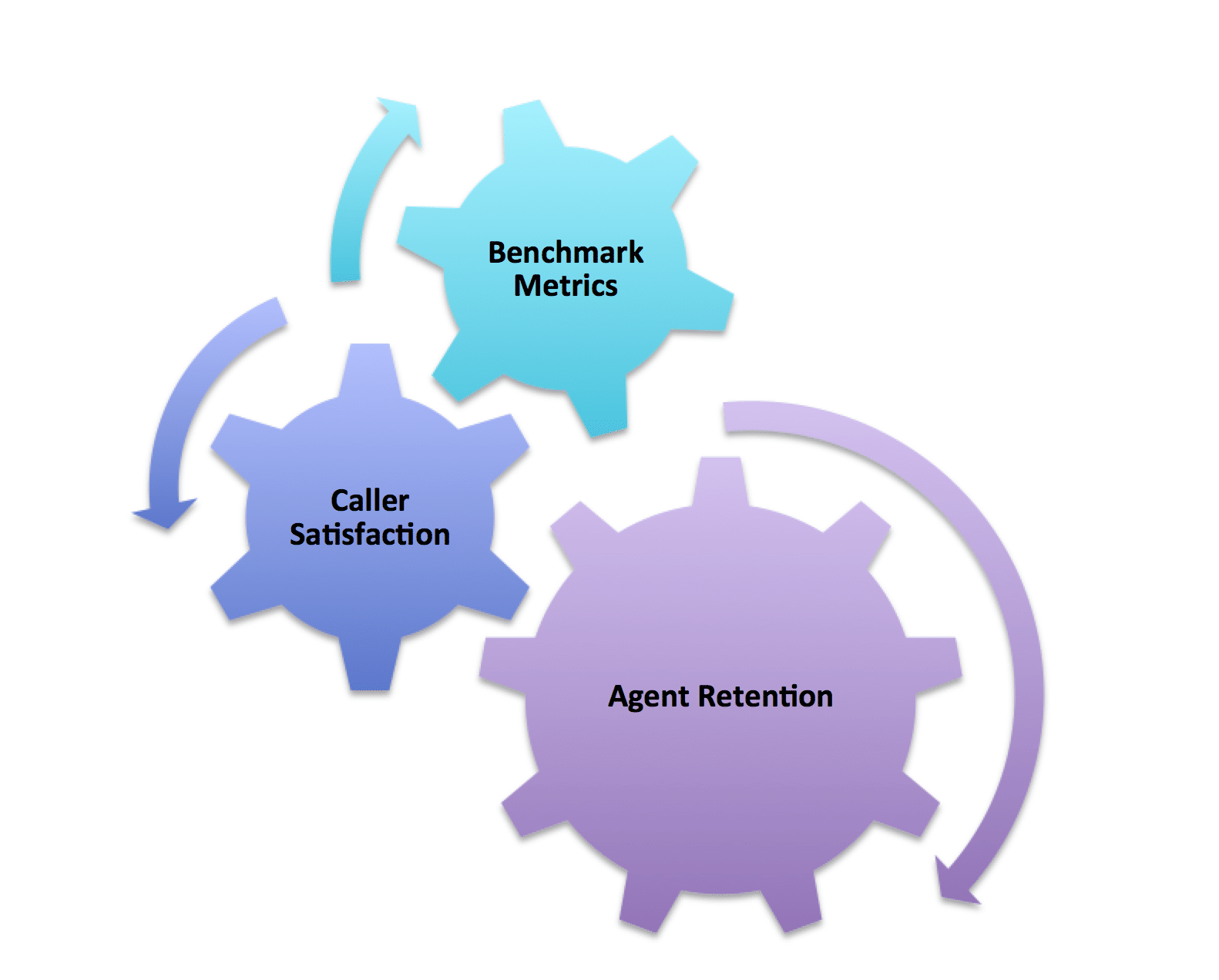 The process is based strictly on a quantitative approach, as compared to a qualitative approach where most performance issues depend upon the judgment of an auditor.
It begins with a thorough statistical comparison between the call center striving to be certified and a group of similar call centers in the same industry sector.
We use a "balanced score-card" approach that balances cost-related metrics against metrics which correlate with quality.
Our analysis relies completely on statistical methods of performance benchmarking that pinpoint areas of high performance, and quantify gaps in areas of low performance.
Ours is the only certification, which is academically based, and which uses established scientific methods to measure the attainment of certifiable best practices standards.
Celebrating Contact Center of Excellence Certification
Achieving certification requires the efforts of many within your contact center. We recommend that you celebrate this remarkable achievement as broadly as possible. Following are some suggestions to do just that:
Decorations
Decorate the entire company, especially the customer service department, with posters, certification banners and balloons.
Agent Rewards
Reward your agents for their part in achieving certification. Ask supervisors to write brief, but personal, notes of thanks to each of their agents for their individual contribution. With each note, leave a small gift such as a gift certificate to your company´s cafeteria, an ice cream treat, etc. Hand out buttons with the Certification seal on it and a phrase like "Excellence – – Every Day!"
Celebration Event
Host an event for everyone who played a role in helping to achieve certification. Use this time to celebrate your organization´s great performance. Have senior management explain the essential role customer service plays in the ultimate success of your company. Florida Power & Light flew BenchmarkPortal´s chairman to a Saturday night dinner-dance to make an in-person award of the certificate plaque and banner. They also put on a multimedia presentation of "What it means to be a Center of Excellence." Some 900 people — mainly agents, supervisors and their spouses/dates — enjoyed this exciting event. By showing appreciation and respect in dramatic ways, you will energize your people and your organization will profit by increased loyalty and productivity.
Thank You Notes
Send a note of thanks to each of your customers for their business and announce your center´s achievement of certification and how that will benefit them.
Acknowledgments
Acknowledge those departments outside of customer service who enable you to meet customer needs. Arrange pizza parties for these groups, send bouquets of balloons, and/or write notes of thanks for their support.
Public Acknowledgement
Suggest to your corporate communications department that the award be mentioned in your:
Internal employee newsletter
Marketing materials for customers and suppliers
Investor relations materials, including especially your annual report. You want your investors and equity analysts to know that your customer contact function is a corporate asset which adds to shareholder value!
Marketing
Certification currently gives you the right to utilize the COE seal in several approved ways. There are some rules that go along with this use, which must be respected and which are subject to change from time to time (with reasonable advance notice):
You may use the seal on your website and on your stationery as long as you remain a certified Center of Excellence.
You must send us examples of such usage for control and archive purposes. Please send to crystal@benchmarkportal.com.
In your marketing, public relations and investor relations materials you may refer to your center as a "Certified Center of Excellence," awarded by BenchmarkPortal.
It is inappropriate to say that your center, or your company, is endorsed by, or recommended by, Purdue University. Understandably, it is against University policy to make such commercial endorsements. When in doubt, please contact us.
Steps To Begin Your Call Center Certification:
Contact us today in one of the following ways to begin your Call Center Certification.

Call: 1-800-214-8929 Ext. 1