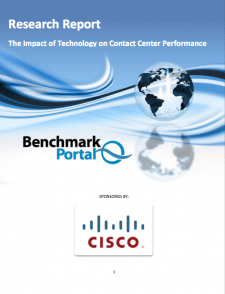 The Impact of Technology on Contact Center Performance
The industry's first ever in-depth research study which shows the statistical link between technology maturity and key performance metrics. This groundbreaking 2012 research report provides positive, statistically relevant evidence showing that more advanced contact center technology produces better contact center performance. More advanced technologies result in more effective and efficient customer interactions. For instance, they:
Based on rigorously checked  and validated data from 143 contact centers across a broad range of industries, this unique research paper will help managers justify investment in more advanced technology.
This 'MUST READ' REPORT belongs on every contact center executive's desk!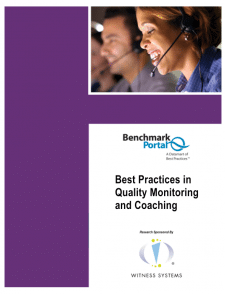 Best Practices in Quality Monitoring and Coaching
This ground-breaking research report by Dr. Jon Anton and Anita Rockwell examines both current conventional wisdom and innovative best practices and comes to some surprising conclusions about the best way to manage the vital monitoring and coaching functions. By putting the customer at the center of the paradigm, innovative companies and vendors have pioneered new processes and technologies that make these functions less adversarial, more effective, and ultimately more value-building for the enterprise.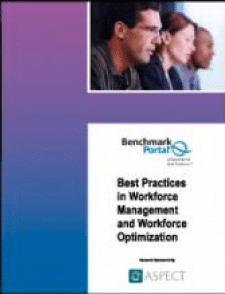 Best Practices in Workforce Management and Workforce Optimization
The team of researchers from BenchmarkPortal and Purdue University's Center for Customer-Driven Quality have focused, once again, on your most vital resource: YOUR PEOPLE. Study Findings include: What are the impact factors in best practice companies, Workforce Optimization Cycle and Components, Forecasting and Scheduling Alternatives, Workforce Management Roles & Responsibilities, Workforce Management Metrics, and Developing Optimal Schedules.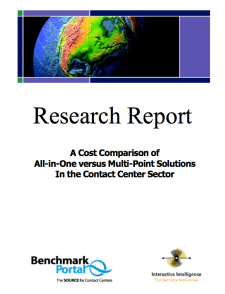 A Cost Comparison of All-in-One versus Multi-Point Solutions In the Contact Center Sector
We completed a study into an emerging model of contact center technology – the all-in-one model — in which one vendor provides all needed solutions on a single platform. We surveyed the people and explored the processes that are keys to the acquisition and implementation of technology in today's contact centers. In particular we sought to understand base-line decisions made regarding a "multiple point solution" approach as opposed to the "all-in-one" contact center suite approach.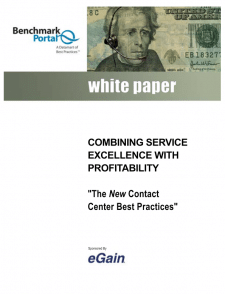 Combining Service Excellence with Profitability
In today's challenging business environment, customer contact centers are looking for ways to transform themselves from being cost centers to profit centers on their way to becoming strategic value centers, adding value to the whole enterprise. In a 2003 Aberdeen Group survey of customer service executives, 83% of the participants said that their contact center is critical or important to their enterprise. In 2004, Purdue University's Center for Customer-Driven Quality surveyed C-level executives and found that in addition to their usual focus on cost reduction and revenue generation for call centers, their new demands included caller satisfaction, increased wallet share and increased market share.