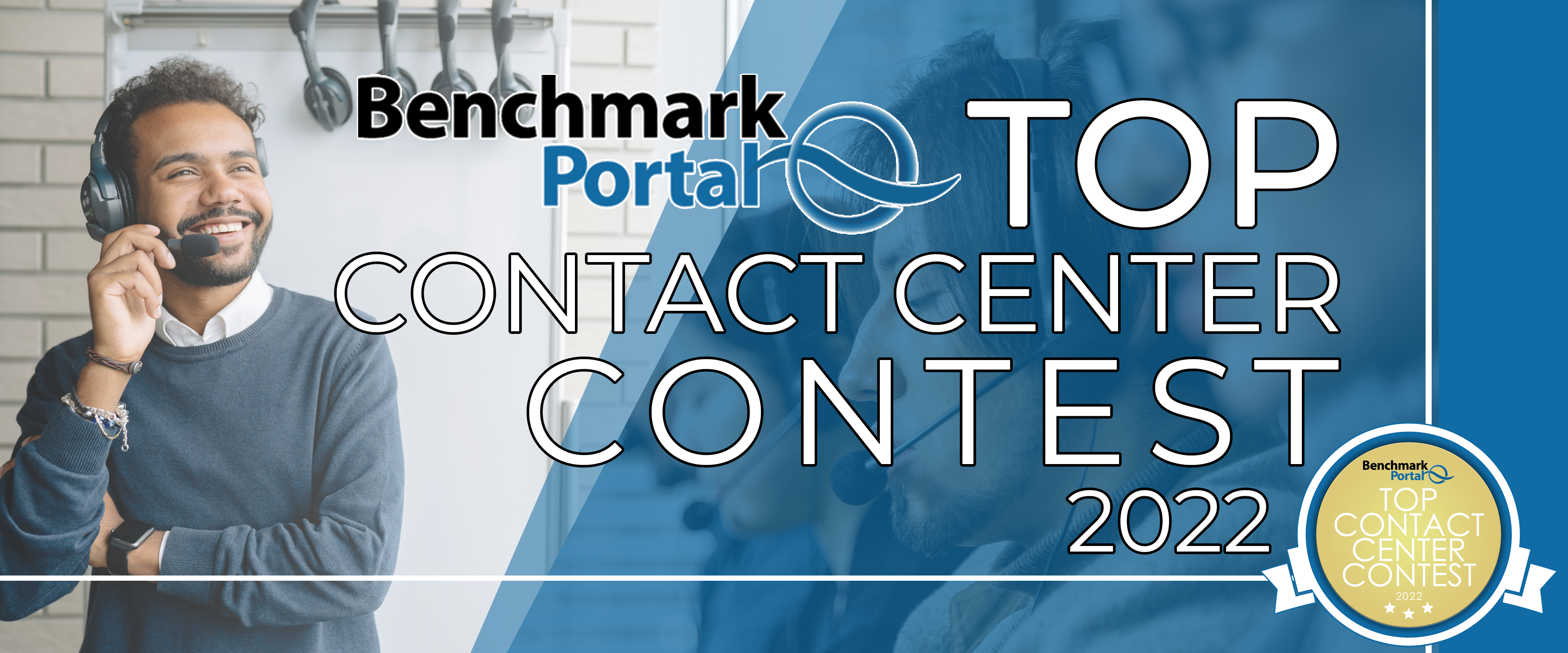 Enter the 2023 Top Contact Centers Contest
By Benchmarking Your Center Today!
Awards Based On Efficiency, Effectiveness and Individual Metrics!
The Top Contact Centers Contest is internationally recognized as the premier contact center contest. Based on actual performance metrics, benchmarked against the world's largest database, this competition is unique and attracts a broad range of participants, from small centers to very large, multi-site operations – – and everything in between.
Enter The Top Contact Centers Contest By Either:
1. Register and submit your benchmarking survey before December 31, 2022
2. Become a BenchmarkPortal Center of Excellence by signing up for an on-site or a virtual assessment of your center and submit your KPI survey before December 31, 2022*.
*Assessment must be completed by February 28, 2022.  Apply at: https://www.benchmarkportal.com/contact-center-assessments/ 
Participate today!! You will get valuable insights from your benchmark report and your expert read-out – – and you will have a chance to win $ to celebrate success!
Note that this contest is separate and apart from our Center of Excellence Certification program in the way it is judged. Whereas the Center of Excellence program compares participating centers to others in their own industry, the Top Contact Center contest compares participants across all industry sectors.
Winners will be announced in March, 2023. There will be a major press release and significant social media exposure that accompanies this contest each year.  Winning centers in the overall metrics categories receive cash reimbursements for celebrations for their centers, to recognize their achievement. 
This is an exciting way to receive recognition and see how you compare. Sign up and get started today!
If you have any questions please contact us at info@BenchmarkPortal.com
Categories:
Top Contact Centers – Highest Balanced Performance score in Effectiveness & Efficiency
Small Center 2 – 49 Seats
Medium Center 50 – 249 Seats
Large Center 250 and up
Inbound Sales (any size)
Also awarded will be:
Most improved for the size categories above

Individual Categories

Effectiveness

Best Overall Customer Satisfaction Rating (Top Box minus Bottom Box) – must use BMP CSat Survey to qualify
Best Overall Agent Satisfaction Rating (Top Box minus Bottom Box) – must use BMP ASat Survey to qualify
Lowest Average Speed of Answer
Best First Call Resolution Rate
Lowest Abandon Rate
Efficiency

Best Cost per Call
Highest Percentage of Calls Handled/Resolved in IVR
Highest Calls per Agent per Hour
Best Agent Retention (lowest external turnover)
How & When We Determine The Winners:
Eligibility Requirement:
In order to win, your contact center must be an inbound contact center located in the United States or Canada. All Key Performance Indicators will be cross-checked by our automated quality control system and will also be reviewed, approved, and presented to you by a Certified Contact Center Expert. The winners will be the centers with the highest statistical values for efficiency (cost containment) and effectiveness (quality of service), as computed by BenchmarkPortal's patented Tonchev Performance Index (TPI).
In order to ensure the credibility of submitted data and maintain the integrity of our database, BenchmarkPortal requires that all questions in the Contact Center Benchmark Report Survey must be answered completely and supported by relevant documentation, if requested. Selected questions (*Identified with an asterisk* in the questionnaire) must be answered. These requirements are necessary to ensure that all participants will be measured equally and fairly. Entries with required information that is missing, incomplete and or unverifiable will be excluded from participation.
Close Date:
The 2023 Top Contact Centers Contest will close on January 31, 2023. Final Benchmark Analysis completed by mid-February 2023. Any entry submitted after January 31, 2023, will be entered into next years contest and will not be qualified for this year's contest – No Exceptions beyond the deadline.
The Announcement of Results:
All participants will be notified their results by email by March 2023 to the email address that was submitted when inputting data entry.
Awards
Awards will be announced to all centers whose metrics place them in the award category. Centers who achieve 'Top Contact Center' and/or are chosen for the Individual Categories have the opportunity to use the Commemorative Seal on Websites, email signatures, social media, press releases, advertisements, etc.
BenchmarkPortal will publicly announce and publish the following results:
1-3 rd Place for the following categories: Large, Medium, Small and Inbound Sales.
1 Center will be determined for the Most Improved Center for Each Individual Category.
Individual Metric Winners
BenchmarkPortal does not publish or otherwise disclose specific rankings or an entire list of winners to avoid improper use for competitive purposes.
Award Ceremony:
Centers who place will be offered a discounted ticket to attend our annual Call Center Campus event to receive their award certificate.
Trophies/Plaques/Banners:
All Top Contact Centers will be able to purchase trophies, banners & plaques to commemorate this special achievement.
Due to COVID-19 2021 Top Contact Center Contest was not announced.