Contact Center
Industry Reports
Our call center reports are the standard references for consultants and practitioners worldwide. We provide current information on over 40 industries that will help you compare competitive performance, metric by metric.
BenchmarkPortal offers three types of reports, listed below. Standard reports are updated on a regular basis, to assure that the data is current and relevant. Most reports are available immediately, while others may take up to five days to complete. We do our best to meet the timelines of our clients.
Our 41 KPI Industry Benchmark Reports contain information drawn from BenchmarkPortal's flagship benchmarking survey, which is the acknowledged industry standard for contact center benchmarking.
Download Sample Report
Our Worldwide Industry Benchmark Reports contain contact center data broken out for three global regions – The Americas, EMEA (Europe, Middle East, Africa), and Asia-Pacific.
Download Sample World Wide Report
While most users find that our standard reports meet their needs, some require reports drawn from special cuts of our database. Our experts would be happy to work with you if you have special requests.  Please contact our team for assistance.
A listing of commonly requested Industry Reports:
Catalog – Retail/Wholesale
Consumer Products – Consumables
Consumer Products – Durable Goods
Consumer Products – Electronics
Consumer Products – Non-Durable Goods
Financial Services – Banking
Financial Services – Brokerage
Financial Services – Credit Card
Government – Federal
Government – Soc. Svcs., Health & Welfare
Health Care – Provider/Hospitals
Health Care – Support Services
Insurance – General
Insurance – Health
Insurance – Life
Level-One Technical Support
Manufacturing
Media – Publishing/Newspaper/Magazine
Technology – Computer Hardware
Technology – Computer Software
Telecom – Cellular/Wireless
Transportation- Rail/Trucking/Shipping/Courier
Travel & Hospitality
Utilities – IOU/Municipal/Other
How We Collect Our Data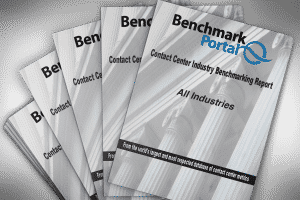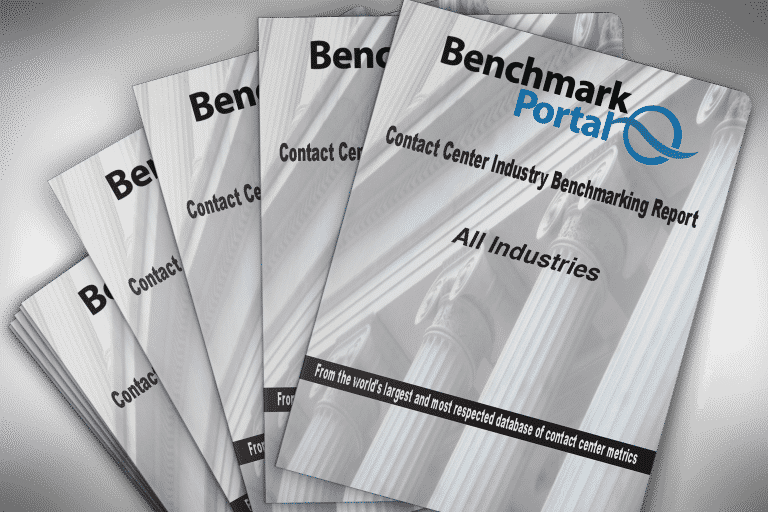 As the customer service call center has become the most vital interface between a company and its customers, it has become critical that the contact handling process be conducted both effectively and efficiently.
Many companies now want a "third party" opinion regarding how well their call center is functioning in its strategic role of getting, keeping, and growing customers. This business need to rate the performance of a company's mission critical call center has lead executives to recognize the potential of the contact center as a significant revenue generator, perhaps one of the surest investments they can make in enhancing and creating customer value and bottom-line profits.
The BenchmarkPortal warehouse of contact center data, has the following unique attributes:
It is a unique source for real-time best practice performance measures;
It is continually updated with fresh contact center data via one or more of the update methods mentioned below;
Performance is compared to a Peer Group with similar functional characteristics (apples to apples) defined by you, the participant;
Enables managers to target areas of opportunity within the center;
Identifies the efficiency and effectiveness of your Call Center performance; and
One-Minute Surveys™ – Since 2000, BenchmarkPortal has conducted hundreds of online One-Minute Surveys™ of contact center managers and executives. The information gathered by these surveys has also been added to the database, bringing an additional level of richness and freshness to our database resource
The process is based strictly on a quantitative approach, as compared to a qualitative approach where most performance issues depend upon the judgment of a trained auditor.
We use a "balanced score-card" approach of performance comparison in which weighted KPI's from your center are compared to the industry selected for certification.
Our certification is academically based, and uses only established scientific methods to measure the achievement of certifiable best practices standards
KPI data collected during the certification process is added to our database and is used to derive the best practice standards we publish in our reports.
Conclusion
Herein lies the challenge and the primary reason to benchmark your center's performance metrics against your peer group, as well as centers representing best-in-class performance. Benchmarking your contact center performance against a Peer Group of similar centers is a mandatory step in becoming and staying competitive. This vital information, updated constantly, enables managers to remain competitive in a cost-effective manner by:
Secondly, you can further magnify performance gaps by calculating the dollar value of poor performance. For instance, it is much less likely that you will get management's attention if you publish a performance gap in average talk time of 1.5 minutes per call. It is much more likely that you will get immediate management attention if you instead show that a performance gap of 1.5 minutes for each call compared to your peer group adds up to over a million dollars of excess cost each year.