Contact Center Training
Coaching for Performance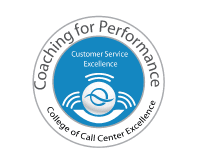 The Coaching for Performance course has been designed to provide the training, techniques and tools required to sustaining and improving agent performance. During the course we will review the role, responsibilities, and characteristics of an "effective" call center coach – the kind of coach who makes a real impact on agents' lives and on evolving agents' performance. We will use various tools and approaches for improving performance, including analyzing gaps between goals and actual performance. The course provides tips and techniques based on the BenchmarkPortal coaching model. This course will also focus on communication techniques and creating a strategic plan for all levels of performers. Finally, we will take a close look at agent retention and the impact of reward and recognition on performance, engagement and ultimately retention of talent. Participants are encouraged to share their most challenging agent performance issues with the facilitator prior to the start of the course. Throughout the duration of the course, the facilitator will weave these performance issues throughout the delivery of the program and provide suggestions for creating a winning coaching strategy.
Coaching For Performance Workshop, You Will:
Review and identify the role, responsibilities, and characteristics of an "effective" coach.
Match management expectations of using call center metrics and the impact on agent performance.
Perform a gap analysis to identify actual agent performance vs. desired performance.
Examine successful communication techniques to strengthen agent performance, build confidence and rapport, deliver a more impactful and efficient coaching session.
Compare and contrast the needs of new stars, rising stars, super stars, and falling stars (different tenure, different performance levels).
Practice and Application: Develop an effective coaching strategy and plan for different agent types.
**Content and material may be updated without prior notice.
On-Site Personalized Call Center Training:
Our on-site call center training provides a cost-effective way to maximize your training, provide training in your call center, and cover the key challenges you need to address to successfully elevate your contact center to new levels of excellence.
Learns through action – in your center, using your data, using their center management tools and managing your resources
Customize the learning experience by focusing on specific areas of interest
Save on employee travel cost
Minimize time away from work