On-Site Contact Center
Management Training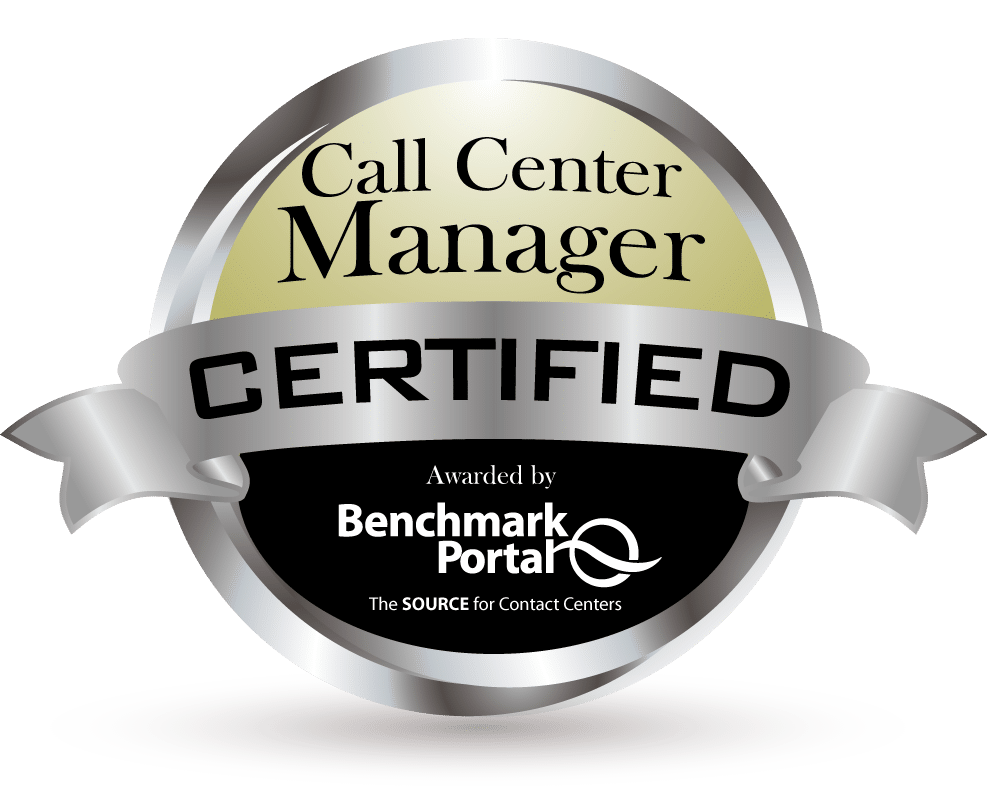 The on-site call center college for managers and directors will focus on understanding how the business operations and the technology of the contact center environment interrelate. These courses will equip you with the skill set necessary to improve your call center's performance. Drive effective change for your contact center using best practice methods validated by BenchmarkPortal.
One of the main things that separates our call center management training from others is that we use benchmarking to prove our best practices and training. BenchmarkPortal has the world's largest database of call center metrics and all of our students participate in our call center benchmarking survey as part of this course. This complimentary call center benchmarking report and Web-ex style presentation of your benchmarking results provides your company with a snap shot of the call center vs industry peers. No other call center course can offer this type of information.
Our call center management certification course is composed of ten information-rich modules that include learning activity "case studies" that focus on practical problem solving and current call center best practices. The curriculum, which was originally developed by Dr. Jon Anton of Purdue University, has been expanded and updated by Bruce Belfiore, Dean of the College; Dayne Petersen, Lead Instructor; and their staff of industry experts. Typically participants include Call Center Managers, Directors and Vice Presidents. These courses will help you better manage your call center and strengthen relationships with other departments (for example: Marketing, MIS and telecommunications).
BenchmarkPortal can improve the performance of your customer service center – – and your career – – with BenchmarkPortal's College of Call Center Excellence certification training!
Value and Experience
Quality Based on Data and Research
Career Enhancement
Community and Sharing
Competitive Advantage
Save on employee travel cost
Minimize time away from work
Call Center Management Training Workshop Agenda:
Leadership & Organization
Data Analytics
Human Resources
Agent Satisfaction
Customer Satisfaction
Basic Workforce Management
Quality & Call Monitoring
Coaching For Performance
Self-Service
Benchmarking
3-day training at client's location
Up to 15 people – with flexible options to meet your needs
Course materials, examinations, and certificates for the workshop
Option To Customize Call Center Training:
Our on-site call center training provides a cost-effective way to optimize training for your specific needs.  Our expert instructors can work with you to ensure that the curriculum is geared toward your problems and aimed at attaining your goals — so that you can successfully elevate your contact center to new levels of excellence. A conference call would be set up to discuss and customize the training to your centers needs.
The instruction can include use of your data and your operational circumstances, for maximum impact
Teachers will customize the experience by focusing on specific areas of interest to you.
Preferred Partner Discount: Center of Excellence Members 15% off.
Cannot be combined with other offers or discounts.
2015 On-Site Management Workshops
"The College of Call Center Excellence gave me a better understanding of the opportunities at my call center. We have a lot of work to do and now I feel like I have a blue print of how to get there."
"I will manage differently after this class. I have skills now to analyze, coach and build a better team."
"The experience was great, the instructor was very knowledgeable on all the information."
"This course showed us how and where improvements can be made in my current position and in the call center."
On-Site Telmate Management Workshop – April 2015
"This course was very informative. I have been in the call center industry for 18 years and I would highly recommend this course to any call center managers."
"This course opened up my perspectives on business in a call center. But most importantly the instructor was awesome in the way the material was delivered in real time perspective."
"It opened my eyes to focusing on what is important beyond the metric. I'm so used to putting out fires with daily activities that it had to become routine. Now I can start to efficiently and effectively make better use of my team and resources."
"This course was a great reality check on several levels. It opened my eyes on training gaps within my team, as well as provided new techniques to teach and develop my representatives."
"Anyone who works in a call center would benefit. It gives you insight into operational aspects."
"Great for every call center to have or get certified. Very great information to learn."
"This was the best training I could have asked for my managers. It clearly demonstrated how we need to understand the business objectives and correlate to our everyday work and focus on the important and urgent, not just the urgent (putting out fires all day). The need to move the business forward and be effective and efficient."
"I had a great time and learned a lot from the instructor. I can't wait to get back and apply what I learned."
2014 On-Site Management Workshops
"Best Training we had in years."
"Great course, learned a lot, this will make me a better manager."
"Joe, the instructor was very informative and a joy. His wealth of knowledge and expertise will save us very well in future endeavors."
"Joe's knowledge-base is an invaluable resource. From the first hour it was clear that he knows the materials well."
"Joe is a great teacher. He explained with full knowledge so that I understood. He asked if anyone had any questions and made me feel valued. Great Job!"
"Joe is a wonderful instructor. He is genuine, accessible and knowledgeable. The information included in the course was invaluable to our future."
"Great training – increased my knowledge about different call components and how they affect the overall composition and the success or failure of a call center."
"Most useful information for customer service improvement."
"The course provided in-depth knowledge of all aspects of a call center department, which will be valuable in future business successes moving forward."
"The training was great. I hope to get more involvement with BenchmarkPortal. Thank you!"
Steps To Begin Your On-Site Training
Contact us today for pricing details and to start your On-Site Training.
Call: 1-800-214-8929 Ext. 1